The jewellery was Paul Ysart's idea. He had been making small 'stones' and setting into cheap jewel fittings as presents for friends and family. Caithness saw a potential and put Colin Terris in charge of further development. The range was officially launched in December 1970. Colin Terris designed a range of brooches and pendants inspired by traditional Scottish design and hired Lucia Polanski as a jewellery designer; she produced the rings, earrings and cufflinks designs.
The first manufacturer was Cox Jewellery based in Birmingham, hence the Birmingham hallmark on the earlier pieces. Hallmarks can be used to identify the various manufacturers of the pieces: London — Booty Jewellery (1968-84); Edinburgh — Scotia Jewellers and Lochinver Silver; No hallmark — Stratton Jewellers. Stratton made cufflinks, tie-pins and pendants. A range of silver boxes were produced by Orkney silversmith, David Hodge, only a very small number were made.
Most pieces were in Hallmarked silver, and where known, all hallmarked dates, reported by visitors, are recorded per design in the catalogues. A small number of rings were made by Cox Jewellery in 18 carat gold but this trial was not continued. In 1975 Colin Terris designed a new range that used less silver and manufactured by Scotia Jewellery, Dunoon, with Edinburgh hallmark. When the cost of silver got too high some jewels were made in non precious metals.
As the jewels were continued after Paul Ysart left Caithness, not all the designs shown will have a Paul Ysart stone. First Peter Holmes made the stones and then other Caithness workers, including James MacBeath and Syd Thomson. John Deacons was also subcontracted for a short while to meet demand for the 'stones'.
Leaflet c.1970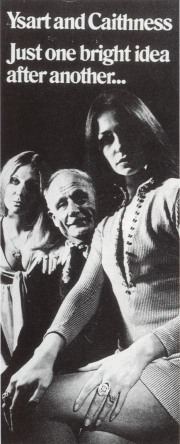 Luckenbooth, brooch and pendant, does not refer to the design but to brooches which, in the 18th Century, were sold in Edinburgh's Royal Mile from 'locked booths'. They were traditionally engagement gifts between lovers, and when the first baby was born they were pinned to the shawl to protect it from evil spirits. The surmounting crown is a symbol of Mary Queen of Scots.
Since the 12th Century the silversmiths in the United Kingdom have been regulated and required to use a registered "hallmark" to identify where and when each piece was assayed — a test that certifies the purity of the silver. All the silver jewellery by Paul Ysart and Caithness jewellery bears a "hallmark letter" which defines the year of assaying. However, the earliest example in the catalogue is 1970. While this does not indicate the date of manufacture, it is highly unlikely that the two would differ by more than a few months.
Caithness Glass outsourced the silversmithing, although CG, Caithness Glass, is Caithness Glass' own registered sponsor marks. Other sponsor's marks seen are CJ, Cox FG and on a silver box DJH. Assay office marks used were Birmingham, Edinburgh, London and Sheffield. See the end of this article for details on these marks.
All pieces marked from 1968 to 1970 contain a stone by Paul Ysart who retired from Caithness in 1970. A few of his stones remained but were used up by 1973. From late 1970 to 1977 Peter Holmes took over making the jewellery and after 1977, other Caithness staff would have made the stones. Stones by Peter Holmes could appear as late as 1979. Unmarked pieces are not silver and were probably produced towards the end of the 1990's — date not yet established.
The date overlaps of the 'stones' used are not certain but come from Caithness sources and seem reasonable.
The relevant marks have been redrawn to avoid copyright issues, so they are not precise. Please refer to a published hallmark book for better reproductions if there is difficulty with identifying the marks. If anyone has pieces with other marks, it would be helpful to know so that they can be added to this page. Or send us photographs! The STANDARD MARK is a Lion passant for England and a Lion rampant for Scotland.
The cane puller who headed the team at Wick left around the end of 2001 and Caithness decided to move cane pulling for their jewelery from Wick to Perth, in order to rationalise the making of canes for paperweights and for jewelery into one place. This resulted in a shortage of certain skills at Perth, and John Deacons was contracted to make canes for their jewelry from mid 2002 until about Christmas 2002. Caithness continued to make the jewelery at Wick, using the canes made by their own staff in Perth. The 2004 takeover by Edinburgh Crystal may affect continued production.