The story of glass in Perth begins in the early 19th century with the bookseller and printer, David Morison (1792-1855), who set up the Perth Ink Manufactory in Charterhouse Lane, and John Todd (? - 1865) who owned a bottle works in Loretto Court, South Street, Perth, where he produced ink bottles and presumably other varieties. In 1836, the Perth Ink Manufactory was bought out by John Todd & Co., and renamed 'Perth Ink Works'. They became one of the world's best known ink-makers with their "Perth Office Ink". At some later time John Todd & Co. was renamed John Todd & Sons. In 1850, the Tay Glass Works, Shore Road, Perth, was founded by Enoch Tomey who may have had some connection with the English glassworks, Joseph Tomey & Sons of Birmingham. The company specialized in the manufacture of gauge glass, which was used in steam engines and other equipment to give visual indication of the levels of water or other liquids.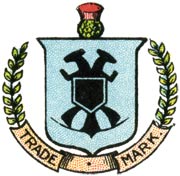 Moncrieff Trade Mark c.1900
In 1834, John Moncrieff was born to Agnes and Thomas Moncrieff, at Cherrybank, Perth. He attended the village school until he was 13 years old, when he got his first job at the Perth Ink Works (1847), owned by John Todd & Co. He continued his education at night school. In 1855, at the age of 21, he was appointed manager of Todd's glassworks, where he remained until John Todd's death in 1865. While at Todd's, John Moncrieff proved to be a very practical man (according to his obituary) taking on the job of building furnaces and experimenting with the glass being produced. Following the death of John Todd, he decided to set up his own glassworks, initially naming it the North British Glass and Ink Works, which he opened in 1868 at 189 South Street, Perth. These premises were rented and, according to the 1871 census records, five men and 13 boys were employed in the manufacture of ink and glass. The company remained at South Street until 1881 when a new facility was set up on two acres of land at St. Catherine's Road. The 1881 census reports that 24 men, five women, 19 boys and four girls were employed. In 1896, a further 32-acre parcel of land was leased from the Council at the lower harbour.
In addition to his work, John Moncrieff was active in the local community, giving both time and money for the benefit of the City of Perth. He was a member of the Perth Liberal Club and eventually became Vice President of both the Perth Liberal Club and the Perth Liberal Association. As well, he served on the Perth Town Council for five years and as a member of the School Board for 12 years. He belonged to the Evangelical Union Church and ultimately became the Manager and President. As an advocate of temperance, he became President of the Perth Gospel Temperance Society. Yet even these did not fully occupy him. In addition, he held the position of President of the Perth Bowling Club, and was a Director of the Perth Bible Society. A keen fisher, he belonged to the Tay Fishing Syndicate, and presumably glass target ball shooting fell into his list of activities.
He married Christina Robb (born 1851) on 6th June, 1867, and was later referred to as 'John Robb', possibly to avoid confusion with his youngest son. He died of a heart attack on September 30th, 1899, and was survived by his wife and three children: Thomas Robb Moncrieff (born 6th August, 1869), Winifred Catherine Moncrieff (born 26th September, 1871) and John "Jack" Moncrieff (born 1st June, 1874, died 29th April, 1950) who took over as Managing Director of the company after his father's death.
The superior quality of Moncrieff's products earned the company an international reputation and its gauge glasses, marketed under the brand names 'Perth' and 'Unific' were sought world-wide by locomotive companies, steamship companies and the British and foreign Navies. This leadership was recognized in 1876 with award of the first of many medals at international trade exhibitions. Moncrieff's had awarded the sole selling rights for the United States to H.A. Rogers in 1872; this was continued by his successors until 1925 when the assets and goodwill of the H.A. Rogers Co. was acquired by Jenkins Brothers. The business then being conducted under the name Jenkins Bros. Moncrieff-Rogers Division.
During 1896 Moncrieff's further expanded its operation by leasing a 32-acre parcel of land from the Council at the lower harbour; it was here that the gauge glasses that were to make John Moncrieff's fortune were fully developed. In addition to ink and gauge glasses the works also made glass bottles, pigments and mineral dyes, as well as gums for bookbinding
In 1900, under the management of John Moncrieff, junior, the company acquired the ink production division of John Todd & Co. The glass side of Todd's was sold to Patrick McNeill, a Perth bottle manufacturer, who carried on business as Gibson & McNeill for only another two to three years. In 1905, Moncrieff's became a limited company. Between 1915 and 1919, following the outbreak of World War I, the company constructed three new furnaces at the St. Catherine's Road site. The War effort meant new challenges for the British glass industry, which had depended on imports, mostly from Germany and Bohemia, to fulfill its laboratory glassware requirements. More had to be produced domestically and Moncrieff's readily met that challenge. In 1919 they acquired Tomey's Glass Works, which had been operated by Enoch's two sons, Enoch Joseph and William, since their father's death in 1867. Although Todd's and Tomey's continued to trade under their own names, Moncrieff's had now become the only producer of glass in Perth.
In 1920, John Moncrieff received the O.B.E., in recognition of the contribution by Moncrieff's Glassworks to the development of the laboratory glass industry in Britain. The company supplied laboratory glassware to British Government departments, factories, hospitals, universities and schools. As a result of continuing research and development of the Moncrieff range of glassware, a new product was introduced in 1926, called Monax. This is a borosilicate glass with great stability and strength; it is resistant to both acids and alkalies and can withstand sudden and extreme temperature changes. A further development occurred at Moncrieff's in the 1920's after the cessation of hand production of mould-made bottles in 1926. During the 19th century, machinery to mass produce glass bottles had been pioneered in the United States and Alexander McNish of the U.S. worked with Moncrieff's to design small-scale automatic bottle making machinery. The resulting machines were called Monish – a blending of the Moncrieff and McNish names. The Monish Glass Machine Co. was established to start production, and the first Monish machine was installed in 1926 at the Tomey's glassworks premises. This represented significant progress and leadership in the production of glass bottles.
In keeping with its commitment to diversification, Moncrieff's began exhibiting a new line of coloured glass called 'Domestic and Fancy Glassware' at the British Industries Fair in 1919. And in 1924, also at the British Industries Fair in London, a line of art glass called 'Monart Ware' was exhibited. This Scottish art glassware was the creation of John Moncrieff's wife, Isobel, and Salvadore Ysart, a Spanish glassblower who had been hired by Moncrieff's in 1922 to make laboratory glass, with his son Paul as apprentice. Salvador Ysart and his four sons (Paul, Augustine, Vincent, and Antoine) were destined to leave a momentous legacy within the Scottish art glass industry. (Link to article on "Monart Glass") The production of Monart glassware ceased when Paul Ysart left Moncrieff's in 1963 to join Caithness Glass as Training Officer and Technical Advisor.
John Moncrieff died on April 29th, 1950 and by 1951 control of the company had passed to David Bennie and Sons of Glasgow. It continued to prosper into the 1970's but changed ownership a number of times during the 1980's and 90's. In the 80's and early 90's, the company was supplying flat gauge glass made from Monax borosilicate, labeled "Macbeth Brand" to the Corning Glass Company in the United States. In 1992, the company was bought from receivership by Fuller Investments, chaired by Christopher Lattila-Campbell and the name was changed to "Monax". Mr. Campbell's wife, like Mrs. Moncrieff before her, was interested in the art glass side of the business and did develop some innovative uses for old stocks of lab ware, milk jars, etc. She toured craft fairs with these products. The last piece of glass made in the Perth factory left the end of the Lehr on December 21, 1995 and the plant was closed down in January, 1996. Even then its work was continued by Monax Glass, Spectraglass and in the year 2000 the company name of John Moncrieff Ltd., was re-established, with a mission of developing to its previous glory. This company carries on business in Dunfermline, Fife, producing art glass, paperweights, gauge/sight glasses, circular sight glasses, tubular gauge glass, and other glass products.
In the early years, the company grew with the steam engine, developing tubular gauge glasses to suit increasing boiler pressures. These were sold to every company running steam locomotives in the then British Empire, and were known in every country on the planet. In the USA, they were known as "Scotch gauge glass".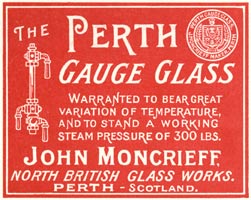 Moncrieff Gauge Glass Advert c.1900
Essentially, there were two types of tubular gauge glass, both in 'heavy wall'. The "Perth" gauge glass was the earliest type, made from soda lime, but it was only suitable for low pressure steam applications, or tank contents gauges, because of its poor resistance to thermal shock. As Colin Mayor recalls: "I say made from soda lime, but apparently bottles, from any source — broken window glass, and even old mirrors — were fed into the 'Soda' furnace; one can only wonder what the quality was like."
As for the "Unific" brand gauge glass (with a blue label), it was made from Monax borosilicate glass, in a variety of diameters, normally 3/8" – 1/2" – 5/8" – 3/4" — but anything from ¼" (6mm) – 1" (25mm) and equivalent metric sizes for Europe. Lengths were anywhere between 3" (76mm) and 48" (122cm). Usually for the boilers it was between 9" (23cm) and 18" (46cm), with longer lengths being used as tank contents gauges at low pressures. The "Perth" brand was also made in these diameters and lengths.
Other names were used for gauge glass (e.g. Monamel, Monax) and Trademark Registration documents used by Moncrieff's could be researched in this regard, although it would be very time-consuming to do so.

Moncrieff Gauge Glass
Monamel Brand
Various other types of tubing were made in soda, borosilicate, and aluminosilicate glass, mostly for test tubes and manipulated laboratory ware. In the period 1962-1996, when Colin Mayor was with Moncrieff's, only borosilicate tubing was made.
It is possible, but unlikely, that "Monax" was registered in the USA as a name for Moncrieff's borosilicate However, Moncrieff's did not license the melting of it to any other company. Monax was also a US trade name owned by MacBeth Evans Co and used initially for lamp shades and later for a range of opaque white tableware – after take over by Corning, this tableware continued in production.
As a rule, tubing finished at the factory would be cut to length on a machine, the ends fused (flame polished) and sandblasted (not etched) with the company name and brand name. It was hand-drawn in lengths of up to 150 feet (46 metres), then gauged and cut into convenient 6 ft. (183cm) lengths. These were shipped to Agents around the world, who would then cut them to order, usually in non-standard lengths, using one of the cutters made by Moncrieff's.
It is known that in 1872 Moncrieff's awarded sole distribution rights for the United States to a Mr. H.A. Rogers; this was continued by his successors until 1925 when the assets and goodwill of the H.A. Rogers Co. were acquired by Jenkins Brothers of Bridgeport, Connecticut and conducted business under the name of Jenkins Bros. Moncrieff-Rogers Division. It remains unclear what happened to Jenkins but at some point the sale (1950/60's) of Moncrieff gauge glass was through Corning.

Moncrieff Gauge Glass Tube Cutter

Up until World War I, nearly all chemical and laboratory glassware had been imported from Germany. However, with the breakout of hostilities, Moncrieff's was contracted, in 1914, by the British Government to produce a complete a range of products to fill the gap (around 3,000 different items) and continued to produce these in an ever-shrinking range until the factory ceased all production in January, 1996. By this time, Corning had an interest in Jobling's at Sunderland and were producing Pyrex beakers etc. by automated machinery. As well, low-priced imports, principally from Czechoslovakia (Czech Republic) had made hand-blown laboratory glassware totally uneconomic.

Jack Lavety who used Monax laboratory ware remembers: Interestingly, I have accidentally broken quite a number of pieces of Moncrieff glassware. I worked in a Ministry of Agriculture Torry Research Station laboratory and we used Monax ware because it was cheaper than the ubiqitous Pyrex. Unfortunately, it was much thinner and breakage rates were horrendous.

Liquid level gauges continued to be developed by Moncrieff's to meet the very high pressure and temperature requirements of the modern petrochemical and nuclear industries, and during the 1980's and early 1990's made all of flat gauge glasses for the Corning Glass Company in New York State, U.S.A., branded with the Corning trade name (Monax had to be given a Pyrex number to satisfy US trade politics). These gauge glasses were made from "Monax" borosilicate and labeled "Macbeth Brand". After the Moncrieff factory closed in Perth, Corning purchased these from T.G.I. Ilmenau in Germany, and had them branded 'Macbeth'.

The Technische Glaswerke Ilmenau GmbH is an internationally known German producer and processor of borosilicate and soda-lime glass. In 1995/1996 as a logical continuation of the glass working tradition in Thuringia, a new glassworks with a state-of-the-art production plant was set up. As an extremely flexible medium-sized company, the company supplies standard glassware and is a reliable partner for the development and production of products according to customer specifications. The company has 230 employees and has an annual turnover of €23m.  (ref 2005. www.tgi-glas.com)

The trade name 'Monax' has not been used by Corning, in the US, for many years. The 'Macbeth' brand name is still in use for flat borosilicate gauge glass: Corning, Swift Glass Company and John C. Ernst Co (all US companies.)
Moncrieff's was a prolific producer of glass for the target balls used in shotgun competitions, a sport that started around 1830 with live targets, usually pigeons released from traps. In the United States, the first recorded date for use of glass target balls was 1866 in Boston by a Charles Portlock, with competitions beginning in 1867. But the sport did not become popular until Bogardus invented a trap that could throw the ball to heights of 60 feet (19.5 metres). Bogardus patented some ball designs in 1877. It is not known when Moncrieff's started to make these balls, but an article in the 'Hundred Years Ago' section of the Perthshire Advertiser, February 1st 1982, states: The annual glass ball shooting competition took place at Harrietfield, near Perth, on Saturday. Consequently, it is likely that the balls were being supplied by Moncrieff's in 1882.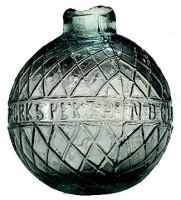 Target Ball
Target balls were hand blown into a three-part mould; several varieties and colours exist. Some were filled with feathers and sealed with wax, providing an explosion of feathers when hit. However, the resulting glass fragments are reported as creating a major problem, having been swallowed by grazing animals. To avoid this, they would often be used over rivers or lakes and many of those missed balls can still be found in the bottom of the rivers. The diamond pattern of the balls was to help them break and prevent the shot from bouncing off them. All the known balls had the text N.B. GLASSWORKS PERTH embossed around their middle — on some, certain letters are reversed or inverted. Some balls have a flat base and others a rounded base. Target balls are now highly collected by the hunting community, along with the various contraptions designed to fire them. (It is likely that a trap was made by Moncrieff's but so far none have yet been identified.) Balls made by Moncrieff's are amongst the most common (owing to finds of several barrels of unused balls), but in 2005 they still fetch from €80 to €200 each!
Colin Mayor, Managing Director of Moncrieff's, was given a target ball by a diver who had been working on the construction of the Jubilee Bridge (1977) as part of the reconstruction of the A9 Perth-Inverness road that crosses the River Tay, just North of Dunkeld. The diver in question visited Moncrieff's works with a box containing about 40 target balls that he had recovered from the riverbed, including green, yellow/amber, and cobalt blue examples. He had only been working in an area of some two hundred yards either side of the bridge, but had still recovered about 40 complete balls.
It would seem reasonable to conclude that the river still contains hundreds of them.
As with any business, output has to be varied to suit changing technologies and economic shifts. Moncrieff's went through many struggles before finally being liquidated in 1996. But even then its work was continued by Monax Glass, Spectraglass and, more recently, a new company called John Moncrieff Ltd.
The company was certainly innovative, developing different glass types, machinery for automation, art glass and a variety of miscellaneous products, such as:
Coffee Jugs and lids for ACI Crown Glassware Ltd. Sydney, Australia.
ACI Crown Glassware was an importer and marketer of glassware. Established 1926, sold 2000.
Coffee Jugs for Peter Bodum, Bramah, etc.
John Moncrieff Ltd. made hand-blown &Lsquo;Santos' coffee jugs from the 1960's-70's for Bodum AG. Production was then transferred to Germany where they were machine made.
An entire range of coffee jugs, bowls, funnels, and drainers for 'Cona'.
A host of 'oddball' items not related to the 'Scientific, engineering, and laboratory' norm, e.g., TV turntables, washing machine doors, Aladdin lamp chimneys.
In the 1960's optical lens blanks were made (up to 2 tons/per day) and fresnel lenses for the TV stage and film industry, slowly replacing the declining laboratory ware range of product.
The company also became active in the industrial lighting field, supplying to a number of companies, toughened and annealed bulkhead and well glasses.
In the 1970's some special lighthouse bulbs were supplied to Thorn, for Trinity House.
On two occasions (1960's & 70's) special stoppers were made for commemorative whisky decanters for Dewars, but not the decanters themselves.